Richardson takes her final stride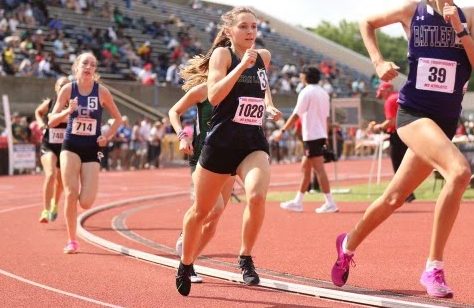 Running is a mental sport. It takes unbelievable discipline, self-motivation and drive. You are accountable to no one and it is less about the circumstances, according to bleacherreport.com. 
Consistent hard work and dedication has paid off for senior Sophia Richardson over the course of her high school career. She has set multiple personal records within the cross country (xc), indoor and outdoor track seasons. 
Richardson's personal best times are 19:47.00 in the 5k, 3:03.82 in the 1000m, 2:18.45 in the 800m and 1:00.06 in the 400m.
In order to reach her goals, she practices six days a week, goes to the gym three times a week and does active recovery, such as stretching and drills.
Along with consistency and hard work, motivation and inspiration have become a large contributor to Richardson's success. She decided to join xc and track her freshman year after her older sister, who was on the team, encouraged her to try it out. 
"My biggest motivator during the xc and track season would be my dad. He's shown up to every race and is always cheering me on at the finish line," said Richardson. 
 Little did Richardson know that she too was an inspirer. 
"She has impacted me personally with her inspiring positive attitude and kindness to every person on our team no matter what," said sophomore Lindsay Meadows. "She brings a smile to practice every day which makes you happy being around her and makes you feel good at practice." 
Richardson will attend Tidewater Community College for two years to further her academic career in general studies and then transfer to William and Mary to major in international studies. 
"I will miss watching her race," said xc and track coach Michael Nestor.