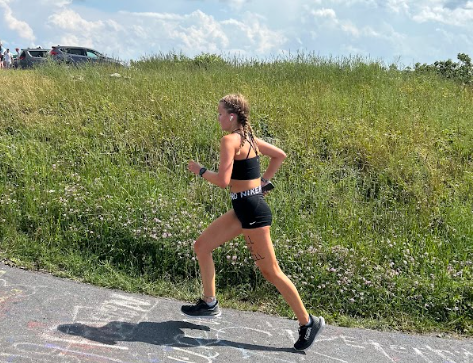 As the 2023 Cross Country (XC) season commences, distance runners begin to prepare for new competition after moving from class 6a to 5a. 
According to XC and track coach Michael Nestor, many sports may see this change as a challenge but it has become a competitive advantage for cross country athletes. 
"I believe the attitude of our team is humble and hungry. The realignment is motivating and a refreshing change," said Nestor. 
Boys and girls varsity and JV have been conditioning six days a week since July 11.
XC practices are a balance of fun and hard workouts involving speed work and endurance-building runs, according to team members. In order to achieve variety, they practice at multiple locations such as First Landing State Park, Kellam High School and Mount Trashmore. 
 "I think this year we are going to perform extraordinarily and surprise people," said junior Roman Chapman. 
Although it isn't just the conditioning that will bring the team closer to success, it's the right team dynamic and support from teammates that make a larger impact. 
"The atmosphere in cross country is super inviting and friendly. Everyone is so nice and encouraging, it's so much fun to hang out together every day," said junior Samara Desy. "The entire team will cheer on everyone's successes whether big or small."
The first meet will be held at Williams Farms against Bayside, Tallwood, Princess Anne and Cox High School on Sept. 13, 2023, with the girls beginning at 4:30 p.m. and the boys at 5 p.m.