Teachers often leave lasting impact, boost confidence
Local teachers provide in-class and after school help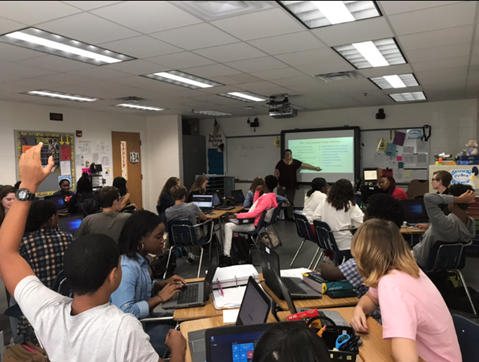 Teachers maintain the ability to leave a lasting impact on their students' lives. Whatever the subject, their impact can be as small as making one student's day a little bit brighter or as heavy as affecting a student's chances at a college acceptance. Teachers have the power to give students motivation where they lack it and boost confidence in the classroom.
"Mrs. Dondero let me know what my full potential could really be and that she always had my back regardless; it made me feel much more confident about myself," said freshman, Eli Mcintyre.
Teachers help students not only with struggles in the classroom, but outside of it too.
"If I had a bad day, Ms. Fleming would make me happy by making me laugh and cracking jokes. She helped me keep my grades up and not to worry about what everyone says about me," said freshman Desirae Brezovsky about her eighth grade English teacher at Corporate Landing Middle School.
Teachers provide this impact by making themselves available to students, before, after or during school for educational and emotional help. In fact, all departments provide specific locations and times for additional tutoring, whatever the subject may be.
"You have to be involved, care, ask questions. I want my students to feel like they can come to me," said AP US History teacher Erika Connolly.
Many teachers also offer after school help to students to alleviate the stress that comes with learning.
"I'm the parent of three teenagers, and I wouldn't want to be any less of a teacher than I'd want my children to have," said Connolly.