Black History Month Profiles: Maya Angelou
The legend of the Caged bird still influential today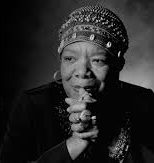 Maya Angelou accomplished much: she was a singer, actor, dancer, editor, and the first African American director. Although these are just some of her talents, Angelou is most famous for her poetry that inspired millions.
"If growing up is painful for the Southern Black girl, being aware of her displacement is the rust on the razor that threatens the throat. It is an unnecessary insult," wrote Maya Angelou.
Her most known piece, "I Know Why the Caged Bird Sings," is an autobiography about the early years of Angelou's life as a poet. It is the first book in a seven volume series that shows how the strength of character and devotion to literature helped Angelou overcome racism and trauma.
Throughout her life Angelou had to experience many obstacles that were caused by the color of her skin and gender. Angelou did not only write about her experience with discrimination, but she observed it happening throughout her whole community.
"Hate, it has caused a lot of problems in the world, but has not solved one yet," said Angelou.