MSA Presentations: Chet Wiltshire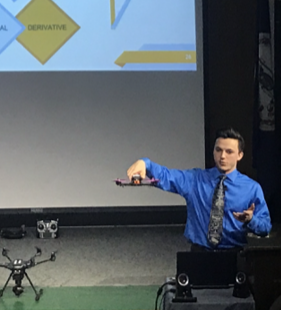 Senior Chet Wiltshire presented his Capstone research project about drones, using his mentorship with his friend's father, a former Navy pilot, along with Mark Burgess; he won third place in the Tidewater Science Fair.
Chet started flying drones young, and as he got better, he decided to take it to the next level.  He explained that the two most famous drone brands are DJI and Yuneec, and some drones, according to Chet, can be priced up to $3000.
"I think it's crazy how we can fly a pressurized tube of metal hundreds of miles per hour, thousands of feet above the earth to places that are thousands of miles away safely and efficiently," said Wiltshire.
Wiltshire's goal is to get his commercial license to fly drones without a mentor present, and he was given the chance to fly an actual plane with Burgess.