Black Panther breaks records, sends message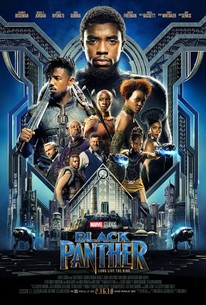 Marvel's latest film, Black Panther, has not only made over one billion dollars but inspired thousands worldwide.
The film, directed by Ryan Coogler, stars Chadwick Boseman as T'Challa, the Black Panther. This film has delivered a powerful message to African Americans and black people across social media. With only two white characters in the movie, it demonstrated that black actors, under a black director, could produce the top action movie of the year.
As of Feb. 12, according to people.com, the film broke a Twitter record as the most tweeted about movie of 2018 with over five million tweets.
When T'Challa's father is murdered, T'Challa must return to his home nation of Wakanda to take his spot as king. T'Challa's title of king is challenged by Erik Killmonger, portrayed by Michael B. Jordan, and T'Challa must master the spirit of the Black Panther to save his people.
In my opinion, Black Panther was the best film Marvel produced since the The Avengers. Coogler used his very limited budget of $200M to create a film that can be enjoyed by all audiences. The film, Marvel's 51st production, captures the essence of traditional African culture while having the Marvel signature touch of futuristic technology.
Initially, I was unaware that Erik Killmonger was the villain. Erik wanted to lead a war against the world to spread Wakanda's technology, avenge his father's death, and find vengeance for his people who were enslaved for generations. His worthy cause had me rooting for him to become the king of Wakanda, but after killing others in cold blood, I returned to T'Challa's side.
Across social media, the African American community embraces Killmonger's black pride as the movie regenerates and celebrates the strong roots of African culture. This Marvel film is a must see for all ages as most viewers leave the theater refreshed by an action-packed, powerful film.
Also, don't forget to stay for the credits to see Marvel's signature post-credit spoiler scenes.