Students traveled to Puerto Rico to help relief efforts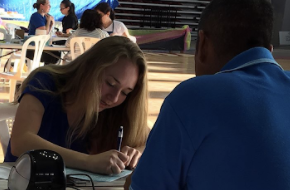 Academy students traveled to Puerto Rico to help in hurricane relief efforts with the non-profit organization Remote Area Medical.
Thousands of people volunteered to help Puerto Rico, including senior Laura Grabarczyk and her sister, sophomore Ally Grabarczyk.
"My sister and mom had traveled to someplace in rural Virginia that didn't have a lot of medical supplies," said Laura. "When we heard they were sending volunteers to Puerto Rico, I wanted to help people but also see the medical side of things."
According to CNN, the category four storm, known as Hurricane Maria, damaged Puerto Rico and left many injured and without power. Hospitals all over the territory were suffering from shortages of medical supplies and equipment.
During the trip over 1,100 patients were seen and $283,000 worth of medical services were provided.
"We were not medically trained, so we did a lot of help with registration," said Laura.
Remote Area Medical entered the area with their volunteers and offered services such as free dental care, eye exams, women's health exams, and general health exams.
"I've wanted to be a doctor for years, but now I'm definitely considering going to other countries and helping; it's reinforced my desire to work in medicine," said Laura.
Many of the patients only spoke Spanish, so it made communication difficult.
"The trip made me want to improve my Spanish even further," said Ally. "After this I really want to be a nurse and maybe join the Peace Corps after college."
During the trip, the sisters met volunteers as well as patients who had interesting life stories and plans for the future. In fact, they shared how one man had designed a building out of old metal containers and figured out a way to make the structure hurricane proof.
"It was a really incredible experience for so many reasons, mainly the people," said Ally. "The Puerto Rican people were just so gracious and thankful."
On the last day of their trip, a local band surprised the volunteers with music to show their appreciation and thank them for all of the help.
"We already have another trip planned at the end of August and are looking for more international trips," said Laura.