Explorica provides opportunity for students to experience Europe
I see London, I see France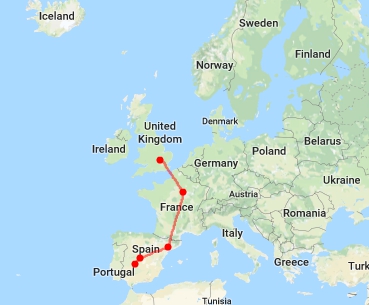 This summer, a group of students will travel to western Europe for close to two weeks. AP Human Geography teacher Robert Weisenbeck will travel with students to London, Paris, Barcelona, Madrid, and Toledo. Twelve to fourteen students participate in this field trip, despite its cost of $3840.
"Students several years ago asked me to sponsor a trip to Europe, and they eventually talked me into doing it," said Weisenbeck.
This year marks the fifth year that he will take students to Europe.
"I enjoy seeing students experience the countries that they have been dreaming of going to," said Weisenbeck.
If students want to travel to Europe, Explorica provides a true first hand look.
"I hope to get an idea of how different the culture is in those countries," said sophomore Olivia Nery.
The field trip begins a few days after the school year ends, June 25 to July 6.
"This opportunity was too good to pass up because it's basically all done for us," said Olivia. "Every day is planned out, and I get to go to different countries with my friends."
Students will be able to experience what life is like in another country, as well as develop strong friendships with their peers and grow and mature as a world traveler. 
"I hope to learn about the different landmarks and the French culture while we are in France," said sophomore Katelynn Estelle. "I genuinely don't think there will be another opportunity like this after high school."