DECA members compete at States at the Convention Center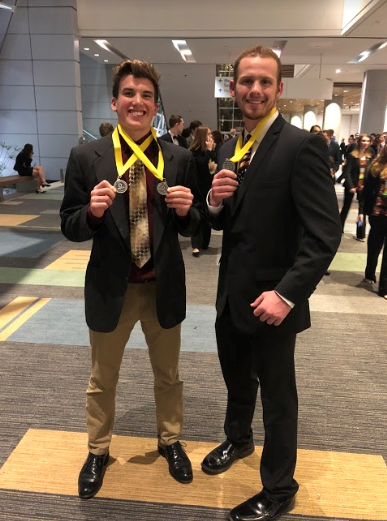 DECA is a club that helps prepare students for future careers in business. They recently competed in the states competition at the Virginia Beach Convention Center.
At states, DECA president CJ Reed, placed first in his category of personal financial literacy, which is the first time DECA has places first in any category at a competition.
"There were 75 other people in my category," said senior CJ Reed.
While competing, CJ was given a scenario that has never been seen before and after 10 minutes of preparation, he gave a presentation to the judges.
"In my event, I was counseling a guy straight out of college on how to best manage his debt," said CJ.
Co-president Sam Libasci competed in the category of school based enterprise, in which the school store was presented and gold-certified.
"We assessed trading area, competitors' offerings, influence on merchandising decisions, and price sensitivity," said senior Sam Libasci.
Senior and DECA member Aveline Knoop competed in her own category of startup business where she presented a skin care line for athletes.
"I enjoyed getting the chance to present my ideas to others," said Aveline. "Rarely is there a chance for students interested in business to practice and learn from experiences like DECA provides. I was able to learn more about myself as a presenter and thus gained confidence in the field I hope to pursue in college.
The top nine will continue on to internationals, which will take place in Atlanta at the end of April. Senior Hunter Bishop was in the top nine and qualified for the International Career Development Conference in sports and entertainment marketing.
"I am really excited to go to nationals," said Sam. "It is a really fun time and a good bonding experience."
Both DECA presidents said competing presented them with a great opportunity to collaborate and expand their knowledge in their categories.