One Lunch begins Sept. 6
One Lunch began its new schedule on Thursday, Sept. 6. One Lunch is held right after third block and lasts 50 minutes long. All classes are 85 minutes long with the exception of third block, which is 90 minutes long.
"I am excited for One Lunch because I enjoyed our trial run last year," said junior Jasmine Barrera. "I definitely like it more than normal lunch."
In fact, 18 out of 27 freshmen loved One Lunch.
"I enjoyed being able to explore the school," said freshman Kaitlyn Farrer.
Not only did they like the opportunity to explore what the high school had to offer, they also liked the time to decompress.
"It's nice having an hour to do what you want, get your own time," said freshman Will Shattuck.
Each day has different offerings and different department office hours. Scan a Q-reader from one of the many instructional doors to get One Lunch offerings. What's offered tomorrow? In the gym, corn hole, volleyball, and four square, along with open weight room. The library will be open, and if a student wants it even quieter, go to the Schola for the "quiet zone."
About the Photographer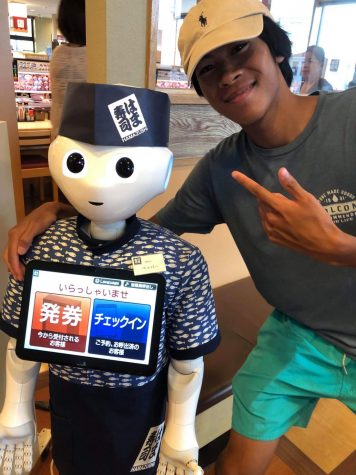 Josh Garcia, News editor
Josh is a third year staff writer who surfs, skateboards, plays electric guitar, and serves as news editor in The Current. He loves to hang out with friends...