Look out for Cook Out
Cook Out serves up cheap eats, attracts students
Thanks to the new Cook Out located in Dam Neck shopping center, hungry teenagers have a new fast food destination to fulfill all of their after school cravings. About a month ago, the Cook Out restaurant chain opened its second Virginia Beach location at 1620 General Booth Blvd., and so far, people have literally been eating it up.
"If I'm hungry after school, getting Cook Out is always a good option," said junior Stephen Kelley. "Its cheap, fast, and only minutes away from Ocean Lakes. Not to mention the food's tasty."
So what makes Cook Out so special? Well, unlike many fast-food chains who specialize in one or two main dishes, Cookout serves up hamburgers, hot dogs, chicken, wraps, and barbeque. About 40 different flavors of milkshakes are offered, including unique choices like cheesecake, pineapple, and the seasonal favorite, pumpkin pie.
"I love their milkshakes and chicken tenders," said junior Rachel Vincent. "Cook Out is great, and I'm so happy we have one so close to the school now."
About the Contributor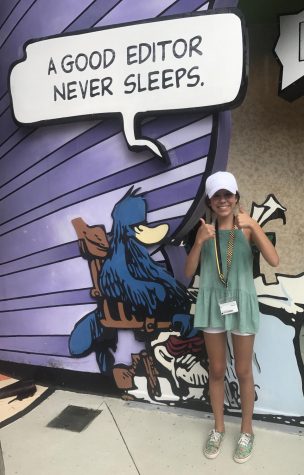 Abby Asimos, Editor-in-Chief
Abby Asimos, the Editor-in-Chief of The Current, is a senior and third-year journalist. She serves on Leadership Workshop staff, the Superintendent's...