From JV bench to varsity starter
Senior quarterback leads Dolphin football team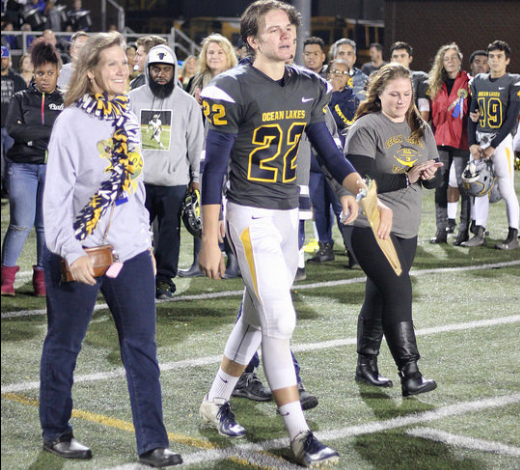 Quarterback Xander Jedlick has been a significant component to the football team's successful season. Ocean Lakes did not lose a regular season game and they made it to the state semi-final. While the football team has been successful with Xander as the quarterback, he has not always been a component of the team's success.
"I didn't play freshman year, and then I came in sophomore year and played JV," said senior quarterback Xander Jedlick.
His opportunities to contribute to the varsity team came last season.
"[I] came in junior year not knowing what to expect starting varsity," said Xander.
He led the Dolphins through a successful 9-1 regular season and two games into last season's playoffs.
"Xander's leadership affects the team because he's so encouraging. If we start slow or have our heads down, he picks us up and tells us to keep playing and clear our head," said junior cornerback and wide receiver Devon Allen.
The senior quarterback has been motivated by the fact that it is his last year at Ocean Lakes.
"Former alumni and coaches say there's nothing like high school football, and we know we have to go out with a bang," said Xander.
This motivation helped Xander get awarded Athlete of the Week after throwing seven touchdowns against Bayside. Ocean Lakes won that game 63-16.
All of this success has given him opportunities to play football after high school; however, his college decision will be based on academics over football.
"[My] dad taught me it's about the 40 years after college not the four years at college," said Xander. "CNU, JMU, William and Mary, and the Apprentice School are my top four right now."
He is also a student in the Math and Science Academy and boasts a 3.84 GPA.
"I just manage my time well, make sure that academics is always first, and whenever I have the chance: I finish it. Whether it's in One Lunch or study block or my off block, I just finish my academic work," said Xander.