Girls' volleyball team celebrates major victory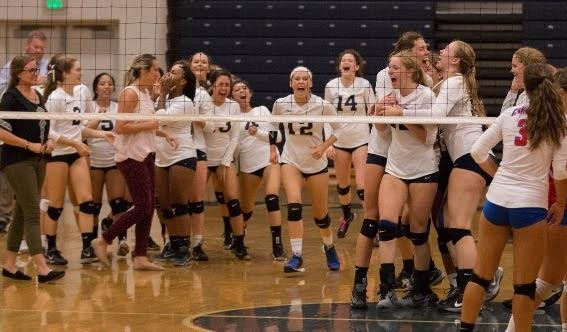 The girls' volleyball team beats their rival again after seven years, ending the dry spell since 2009.
Ocean lakes beat Kellam on Oct. 18, at a home match.
"This means so much for our team. It just puts us one step closer to reaching our overall goal to win states," said junior and starter on the team Madelyn Delmonte.
One of the reasons this particular match is so important is because it was a conference match; which tells the team whether they will continue to move forward or not. Now they will continue to the playoffs against Kellam on Oct. 29. A single game which will decide whether they will go to regions or not.
"We will see Kellam in playoffs again and play other talented teams after proving that means high expectations and hardworking every practice and game. I'm very excited to see our improvement moving forward," said junior Hannah Donaldson, who plays middle on the team.
The volleyball team is currently ranked number 5 in the state and nationally ranked 305. They practice every day after school from the time the bell rings until 4:30 or 5 p.m. They even practice on Saturdays.
The team also rigorously prepared for their game against Kellam.
"To prepare for Kellam we came up with a few strategies…Every moment in practice was spent preparing for this game and it really did help us in the victory," said Madelyn when asked they prepared for the match.
Some team members provided helpful insight on the Kellam players because they had played with Kellam's starters in other volleyball organizations. They pin pointed the weaknesses they found to gain an advantage against their rival.
"It's been so long and it means so much to us and every single year we get closer and closer and this year we finally won. Now seeing how incredible and consistent we can be, I'm looking forward to similar competition," said Hannah.
If the team does go to regionals and win then they will move on to states where they will face some of the best teams in Virginia. These teams will have also won their spot at states through hard work.
"It was great for the girls to show what they're capable of. They performed well at a big game and were confident in what they were doing," Said Jack Wheeler, coach of the volleyball team.