Pop culture misleads teens of fairy tale romances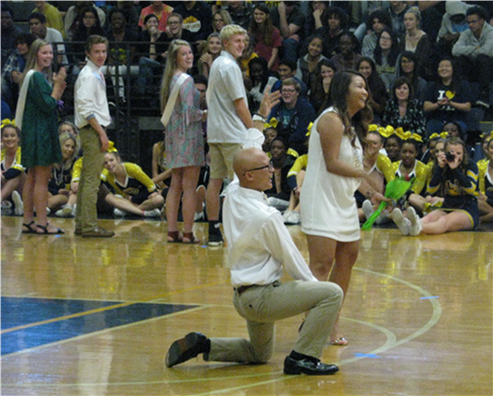 Students often enter high school with the preconceived notion that they will find the perfect high school romance, but it is not certain what this desire must arise from.
"I think they seek that because that's the standard in their minds," said senior Adrienne McLane. "They're lacking that self-love, so they look for it somewhere else."
According to The Psychologist, roughly 80% of teens aged 14 and up have been in a romantic relationship.
However, some students actually believe the opposite is true.
"They don't want to get hurt," said sophomore Tristan Hicks. "Today, most people have commitment or abandonment issues and are too afraid to get hurt, so they stay away from teen relationships."
According to one article on The Psychologist, it is possible that this desire is due to the change in hormones throughout high school, causing a desire for physical intimacy.
"Hormonal changes, triggered by brain and body developments, are strongly implicated in the intense feelings of sexual attraction and falling in love… During puberty, the volume of…sex hormones in the body rises dramatically," said Susan Moore on The Psychologist.
Teenagers have also been exposed to countless movies, TV shows, and novels – from The Little Mermaid to High School Musical to The Notebook – that are based around romantic relationships.
"Kids see movies and stories from other people, and it causes them to desire that stereotypical romance," said senior Grace Perry.
Even companies like Disney and Nickelodeon start drilling the romance plot into young minds from the beginning. High School Musical would not have been the same without the chemistry between Troy Bolton and Gabriella Montez. Boy Meets World would have been nothing without Cory and Topanga's relationship. With movies and TV shows like these, teens begin to think their life is incomplete without a boyfriend or girlfriend.
"Everybody wants their kiss in the rain," said junior Alexis Ford.