Theatre Company works hard to produce Fall play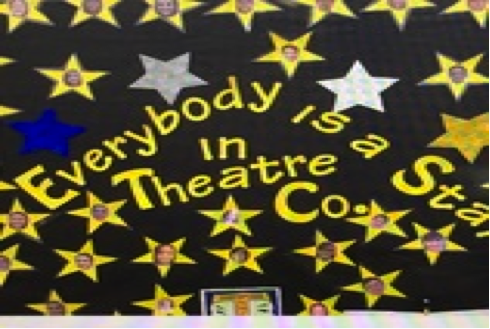 Students prepare for another play by the Theater Company. Claude Blanchard, the theatre teacher theater and the man in charge of the Theater Company, will be performing the book and movie "The Outsiders", which will be held in the auditorium.
"I believe opening night is November 17" said Claud Blanchard.
If you can't make that date no problem. The show will be performed several times throughout November.
"The second will be held the 18 at 7, the third and fourth are the 19th at 2 and 7pm and the final show will be the 20th at 5"said by senior Caitlyn Murphy.
The story is told from a first-person point-of-view. The play takes place in Oklahoma in the 1960s. Three boys by the name of Pony boy, played by junior Joshua Hughes, Soda pop, played by junior Tristan Walker, and Darry, played by senior Troy Shafer, stick together as a family after a tragic car accident, which was the death of their parents. Other characters such as Dallas, played by junior Yamato Hughes, Johnny is junior Chase Gaitens ,Cherry is senior Grace Perry, senior Marcia Abby Watson , and Two Bit, played by a girl instead of a guy sophomore Angelina Karus.
"All the principal cast members are returners" said junior Madison Macdonald.
However, the play isn't like the book and movie. "The play isn't like the movie at all" said Macdonald.
There are new people in the play and as previously mentioned, the role of a guy character, Two-Bit, is played by a girl.
"November 16th there will be a Matinee for 8th graders reading The Outsiders, and the cast will miss school on this day", said Madison. Madison also mentioned how they get to perform a lot more than they used to.
"Something that makes this play special is that the cast gets to wear their leather jackets and hold their fake cigars making them feel like they really are in Oklahoma in the 1950s" said Macdonald.
The cast works really hard to prepare for the play.
"We stay after school every day till the activity bus comes. Once its 1-2 weeks before opening night we even stay till 10 or 11 at night", said Madison.
It's obvious to say that they put a lot of hard work and effort into their plays.
"I highly recommend all you dolphins to come out and show support for theater and all their hard work they do to put together this play" said Madison.