Jordan Green, role model on and off the football field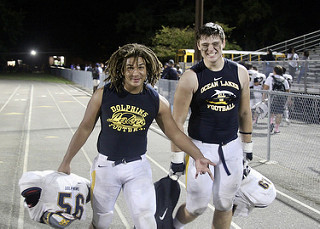 From classroom to football field, Jordan Green serves as a role model on the football team and in the classroom. As a senior, he has excelled in the Math and Science Academy, played football for four years, and wrestled for three.
"I joined the academy because I like math and science; I like the football team here, and I want to be an engineer," said Jordan.
Jordan has a 4.12 GPA, and he got early acceptance into Virginia Tech in December. According to usnews.com, Virginia Tech has the 13th best undergraduate engineering program in the country.
"Yes, he is a role model student because he likes to be involved and get others involved. He is very academic and still committed to his grades and wants to do well," said academy math teacher Emma Tenent.
Jordan is also captain for the lacrosse team and a member of National Honors Society, but being a part of the football team is what shaped him most.
"Honestly, I'd probably give everything to Coach Ramey. There were times where stuff just sucked over the past four years in general, and people were doubting me," said Jordan. "Coach Ramey was doubting me, but at the same time, he was pushing me. He was always willing to teach me more and show me new techniques. With the help from him, I was able to overcome any challenge that came my way." 
This past football season, Jordan was Second-Team All-State for nose guard. In 14 football games, he had 50 tackles, six tackles for losses, eight sacks, and two forced fumbles. His junior year he was third string for the nose guard position due to his lacking size, but through time and dedication, he overcame that and earned the starting position later into the year.
"He's a good overall human being," said coach Christopher Ramey. "Nice, caring about other people, and not into it for himself. He actually cared about what other people needed, so he was there to help."