Khan Academy leads the way in SAT preparation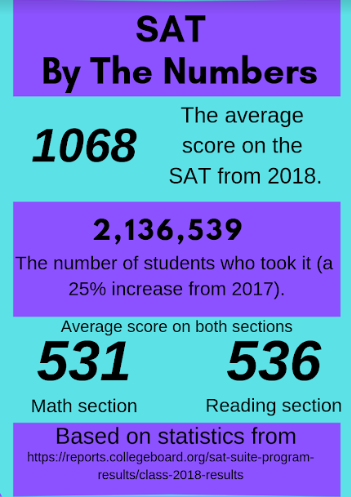 As the SAT nears, students need a way to practice for it, and Khan Academy fills that role nicely.
The spring SAT is Saturday, March 9, so preparation for one of the biggest tests in high school gains importance.
"The higher score you get, the higher chance you have of getting into better schools, or even what school students prefer," said guidance counselor Leslie Riccio.
The SAT helps students show colleges their best abilities and assists students to get into their desired college.
"Getting prepared shows colleges your motivation to further your academic prowess in the pursuit of an advanced education," said junior Austin Jobin.
A few teachers may offer after-school practice for the SAT, which some students prefer, but the majority of students now utilize Khan Academy because it's more efficient.
This educational site allows students to link their accounts to their College Board accounts, for SAT information.
"I believe the school eliminated preparation classes because Khan Academy is better when preparing for the SAT," said Leslie Riccio.
Although Khan Academy has traditionally been used for tutorials, it has a section just for SAT preparation, including both math and reading categories, and students have started to take advantage of the extra resource.
"I used Khan Academy and the PSAT in school to prepare for the SAT," said junior Ben Austin, a student who has taken the SAT.
Khan Academy is also free to use, making it perfect for any high school student who needs help in courses and subjects.
"They had these mini practice sections that were related to how the SAT was formatted," said Ben.