Sophomore runner strides to states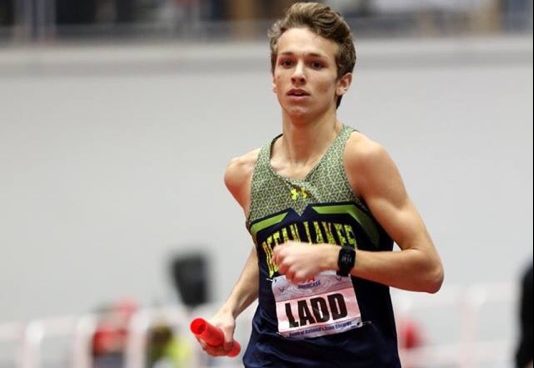 Harrison Ladd is a two-time cross country runner who strides for a running career in the future.
"This indoor season, I ran the 1600 in 4:41 and came in 5th place. In the 1000 I ran 2:43 and came in 10th overall," said Harrison.
He made it to states for cross country and placed 20 overall.
"States for cross country is just one event which is the 3.1 mile, so I ran that with six other people on my team and ended with a 16:50," said Harrison.
His personal best score for the 3.1 mile is 16:33. His score for that particular race was high, due to favorable weather conditions.
"I didn't get my personal best that race, but I ran better than I thought I would because of how cold, wet, and windy it was," said Harrison.
One of Harrison's teammates, who went to states alongside him, notices the hard work Harrison puts in.
"He's a very hard working runner who accomplishes his goals through discipline and persistence," said teammate Owen Lipps.
Coach Nestor believes that Harrison is developing as a runner and is one of the strongest on the team.
"Harrison has emerged as one of the best milers in the our region. He trains 40 miles per week to build stamina and endurance. He has also developed a fantastic finish. Last week at Liberty University, he ran 4:26 for the 1600 run," said coach Nestor.
Harrison and the rest of the team traveled and ran in many events during the season, but there was one that was his personal favorite.
"RVA relays in Richmond were my favorite. That was a 1.5-mile relay and our first race of the season. That meet also taught me a ton, both from experience and teammates," said Harrison. "My teammates taught me how to race strategically and gave me lots of tips. I realized on my own that there didn't have to be such a huge gap between me and our best runners."