Mother of first-seed athlete takes girls tennis coaching position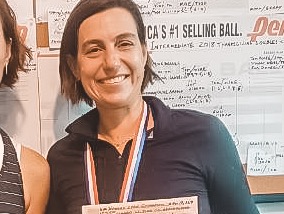 Girls tennis receives a new coach, following Lindsay Roberts.
The new coach, Brenda Nunez, who holds a high level of playing, did not find out about this opportunity to coach coincidentally.
"The job was posted online with Virginia Beach City Public Schools, and Dr. Le Blanc selected candidates and conducted interviews," said Activity Coordinator John Williams. "She was picked purely on her good merits, but it's also exciting to know she has a daughter who's a member of the team."
Her sophomore daughter, Andrea Ayala, came in as a freshman in the 2018 spring season and had no problem rising in the ranks quickly, overtaking her senior teammate, Lauren Manuel, in the first-seed spot.
Nunez is ranked 5.0 out of 7.0 in the tennis ranking system which implies "outstanding" skill, according to the National Tennis Rating Program (NTRP) guidelines.
"Andrea's gonna go far no matter what, but the whole team's gonna benefit a lot. It's rare to find a 5.0 coach," said boys tennis coach Christina Barnhart. "She really is a force to be reckoned with; it just goes to show much the family are just rockstars."
Nunez has worked with younger players in the past. After she developed as a player, she started to coach others towards the same skill; she worked with others within the ODU coaching staff and has given lessons to young kids.
"She already has past coaching experience, not only playing but coaching as well. I think it will be very beneficial to the Ocean Lakes girls," said Andrea.
With the final roster set of the girls tennis team set by Nunez , the season is set to start.
"I think she's a great player and knows the game very well, and we believe she will relate very well to the members of the girls' tennis team," said Williams.