Deportation, a possibility for Atlanta-based rapper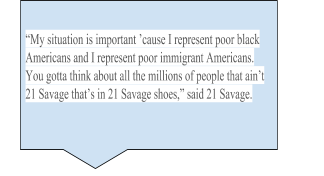 Popular hip hop rapper, 21 Savage, was detained by ICE several weeks ago. 21 Savage, legally known as Shayaa Bin Abraham-Joseph, entered the U.S. in 2005 when he was just seven years old.
"I was surprised to find out 21 Savage was British because he doesn't sound or look like it," said junior Sara Luper.
Abraham-Joseph grew up in a lower class neighborhood in London and moved to Atlanta in 2005.  
According to The Washington Post, he was taken into custody Feb. 3 and has been released on bond Feb. 13.
Since his release, Savage has conducted many interviews with talk shows. He talks about the hardships of living in poverty as a kid, to moving and growing up in Atlanta. He also addresses how much American life has changed for him.
"We struggled but we couldn't get food stamps, we couldn't get government assistance. I learned how to live without…," said Abraham-Joseph.
Savage is upset that he will lose his house or be unable to eat at his favorite restaurants. He says he has accepted his fate of possible deportation.
Hip hop artist Jay-Z has assisted 21 Savage by hiring him a lawyer. Jay-Z speaks on how 21 Savage should be with his three children and not have to worry about the possibility of deportation.
He has fans, artists, and family fighting for him against ICE. Despite that, there are also people who think that 21 Savage should be deported because it is not fair to other immigrants if he gets to stay in the U.S.
"Just because he is a celebrity, he shouldn't get off easy. I think that he deserves to be deported because he's illegal and broke the law," said junior Henry Graycochea.