Girls lacrosse make their mark during inaugural season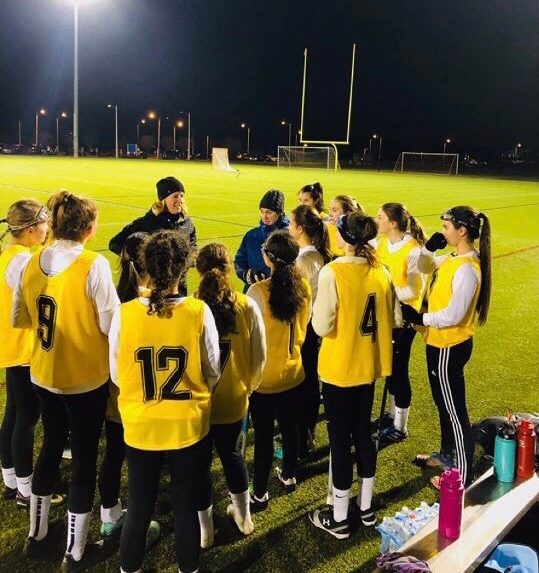 As lacrosse spreads quickly throughout the city and nation, Ocean Lakes hopped on the wave with a brand new girls team, following the boys' first season last year.
Junior Saffron Hewitt-Qualls expressed interest in bringing the sport into the dolphin community. The team came about by gathering girls who possessed an interest in playing the sport for the school.
"We met with the organizer of the boys lacrosse team and got the ball rolling," said Saffron.
So far Ocean Lakes has been successful with the commencement of a lacrosse team, and the school plans to advance and build stronger lacrosse teams.
With only three girls who have played lacrosse in the past, the team will develop with a majority of girls who have not played previously. Currently, the roster holds 18 girls, but more students are still welcome to join.
"We hope to bring students the opportunity to participate in sports and extracurricular activities as a dolphin," said lacrosse sponsor Meyon Burns.  
According to gamebreaker.com, the number of children opting to play lacrosse has grown significantly in the last decade. The website claims that in the US Lacrosse survey, boys and girls lacrosse grew by 47% and 43% respectively.
"In the years to come, it will become a Virginia High School League sport, and Ocean Lakes instead of starting from scratch will already be established. It will give us a head start against all the other schools who don't already have lacrosse," said Student Activities Coordinator John Williams.
The girls' lacrosse club this year will be considered a JV sports team, playing other JV teams in the area. Next year, however, girls lacrosse plans to become a varsity team, preparing to be more and more competitive as years progress.
"We have been practicing in preseason and training to be able to not just show up to the lacrosse games, but be competitive against other teams," said Saffron.