Male gymnast flips over stereotypes
Junior balances the busy life of competitive gymnastics with academy rigor
As one of the only male gymnasts in Ocean Lakes, junior Aaron Golden's life differs from the typical routine. In addition to maintaining his Math and Science Academy schoolwork, Aaron balances his demanding gymnastics training and frequent competitions.
"I do what's called artistic gymnastics, which for men means competing in six events: floor exercise, pommel horse, still rings, vault, parallel bars, and high bars," said Aaron. "I usually do pretty well at competitions, and my scores have definitely improved through the years."
Aaron, who has competed in gymnastics for 13 years, never claims to be naturally gifted.
"I'm much taller than the average gymnast, so that's been a roadblock in certain events like parallel bars," said Aaron. "I don't have the natural body type for a gymnast, so I've had to make up for that with hard work and dedication."
Aaron applies his diligent attitude to more than just flips and tricks.
"Aaron seems like a really great guy," said social studies teacher Morgan Latimer. "He's always out of town or something, but he still manages to get his work done. He gives a lot of effort toward his schoolwork, and you can see that in his gymnastics too."
Aaron also aims to break typical gymnast cliches.
"I am not a stereotypical gymnast most obviously because gymnastics is more popular with girls," said Aaron. "Growing up, lots of people joked me about it. They asked 'isn't that a girl sport?' and  'Are you like gay or something?' Thankfully, I have a very straightforward, intense coach, who tells it like it is. The way he teaches gymnastics has helped me grow into a stronger person. So now, I can push jokes aside and not be bothered."
About the Writer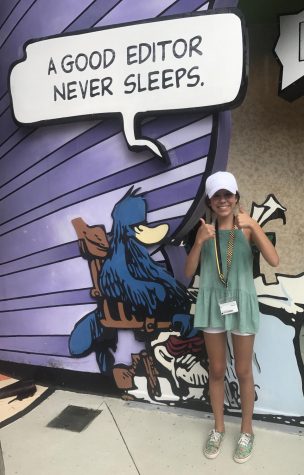 Abby Asimos, Editor-in-Chief
Abby Asimos, the Editor-in-Chief of The Current, is a senior and third-year journalist. She serves on Leadership Workshop staff, the Superintendent's...