SCA hosts annual Mr. Ocean Lakes competition
Joseph Mastrullo crowned 2019 Mr. Ocean Lakes
Senior Joseph Mastrullo was crowned Mr. Ocean Lakes for 2019 at the annual competition on April 4.
Nine contestants competed for the title of "Mr. Ocean Lakes" in various activities, including athletic competitions and a talent show portion. Other winners included senior Keano Rich, awarded Mr. Congeniality, junior Lucas Bushey, awarded Director's Choice, senior Lucas Alexander, awarded Audience Choice, and senior Liv Scharfe, awarded Most Valuable Escort.
"The SCA did a fantastic job making the dances, designing the posters, advertising for us, and keeping us calm during our experience," said Joseph Mastrullo. "I couldn't have asked for a better family to have done Mr. OL with."
About the Photographer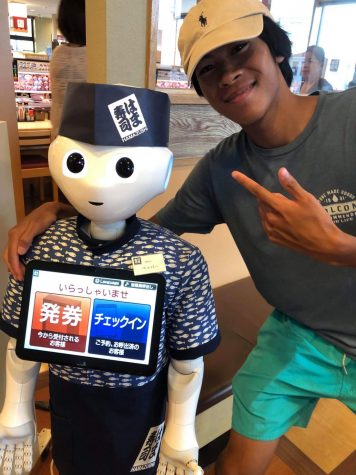 Josh Garcia, News editor
Josh is a third year staff writer who surfs, skateboards, plays electric guitar, and serves as news editor in The Current. He loves to hang out with friends...