Super sequels and handy heroes fly to the theaters in 2017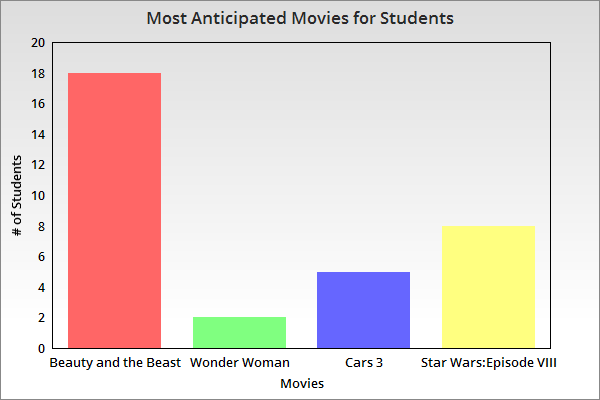 This is the year of movie sequels and remakes. 2017 is sure to be filled with superheroes and dramas.
The most talked about and anticipated movies include the new Beauty and the Beast, starring Emma Watson, Star Wars: Episode VIII, Guardians of the Galaxy Vol. 2, Alien: Covenant, Cars 3, and Fifty Shades Darker, the second movie in the Fifty Shades of Grey trilogy.
Freshman Maddy Pitcher is excited for all the new movies this year.
"I'm excited for Cars 3 because I loved the movies when I was a little kid. Kachow!" said Maddy.
Fandango, an American movie ticket selling company, came up with a top ten list of most anticipated movies for 2017. Seven movies on the list are sequels or continuations of other movies, five are superhero movies, and only one movie is an animated film.
Fandango says that they are anxious to see how The Fate of the Furious movie turns out, since it is the first Fast and Furious movie that has been made since the death of Paul Walker. The only animated film on Fandango's top ten list is Despicable Me 3. The many superhero movies being released include Wonder Woman, Thor: Ragnarok, Spiderman: Homecoming, and Logan.
"I think superhero movies are some of the most anticipated movies of the year because a lot of people love those action packed movies," said Maddy.
One movie that everyone is talking about and many are excited to see is Disney's live action Beauty and the Beast. Ariana Grande and John Legend are recording a duet for the movie. Many loved Emma Watson in the Harry Potter series and are excited to see her as Belle in the beloved Disney classic.
The new superhero movie that many are hyped up about is Wonder Woman.  After leaving her all-female island, Wonder Woman, played by Gal Gadot, discovers her full powers while fighting alongside soldiers during World War I.
If any movie from 2016 were to have a sequel, Maddy hopes that it would be Suicide Squad because she really enjoyed the film.
Actor Max Martini describes what it takes for a movie to be great. Martini has starred in many different movies such as Fifty Shades of Grey, Saving Private Ryan, Pacific Rim, Captain Phillips, and 13 Hours.
"There are so many things that make a movie great," said Martini. "If a movie, through a characters struggle and accomplishments, is able to help guide a viewer to some sort of resolution in his or her conflicts, then that would make a movie valuable."
Martini also had some input on why superhero movies are so popular this year.
"I think that the superhero movie is the ultimate escape," said Martini. "In the back of every man's mind they wou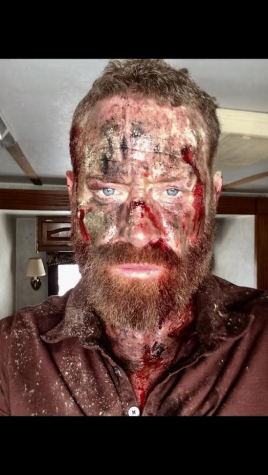 ld love to fight like Batman. They would love to have Superman's body. They would love to have Batgirl fall in love with them."
Martini also took notice of how superhero movies have taken a dark turn. The superheroes people all knew and loved were the personification of everything good and just. Martini is confused on why they have taken such a dark turn, but still enjoys watching them. He was actually next in line, behind Ben Affleck, to play Batman in the most recent Batman movie.
"If they only wanted a redheaded Batman then I probably could've ended my career on that note," said Martini.