Teacher shadow project sheds light on student perspective
Last week teachers shadowed students in a new project where they accompanied students throughout the day to gain insight and perspective on the daily life of an Ocean Lakes High School student.
"The teacher will share the knowledge and ideas they encounter with the administration," said Administrative Office Associate Kelly McMullen. "The administration will then share the gained knowledge with the entire staff."
Starting May 6, the project transpired till the 13. Some students getting shadowed are members of Dr. Le Blanc's Student Advisory Board, but administration asked a few others as well. Eleven teachers and eleven students participated in the event.
"My day getting shadowed was very motivating; I enjoyed it," said senior Lauren Bacher, shadowed by culinary teacher Carrie Jarvis. "Ms. Jarvis was super genuine and uplifting."
Student and teacher participants alike benefited and found value in the experience.
"It is exciting to see how other classes work," said English teacher Christina Fireman, who shadowed junior Kianna Butts. "I get so used to my curriculum and my students, so it is super interesting seeing other classes."
Teachers took notes throughout the day and will take part in a debriefing during One Lunch to share with administration on what they noticed, observed, and enjoyed about being a student for a day.
"We hope this experience will be valuable to both [students] and teachers," said Assistant Principal and project organizer Darcy Parker. "We want these teachers to remember what it was like being a student and to really grasp what life is like for students at Ocean Lakes."
About the Writer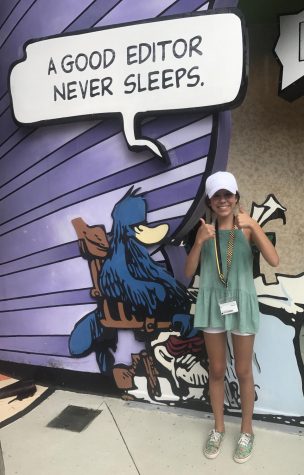 Abby Asimos, Editor-in-Chief
Abby Asimos, the Editor-in-Chief of The Current, is a senior and third-year journalist. She serves on Leadership Workshop staff, the Superintendent's...