ACCESS Foundation commences college commitment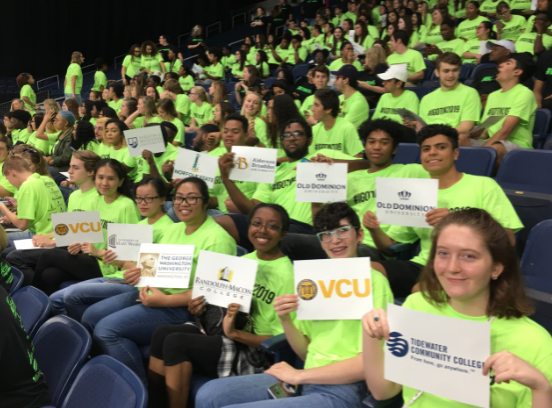 Over 2,000 seniors who have been accepted into one or more colleges celebrated their admission at the ACCESS college commitment day on Tues., April. 30 at Old Dominion University.
"I was glad to see how many other people got into college," said senior Katelyn Dear. "It was cool to see how hype everyone was about college."
Their names were announced on stage by Shaggy from Z104 as students held their future college logos and sang with their peers.
"Once students congregated all together en masse, the energy was palpable," said AVID 9-12 teacher Michelle McAfee, "They were waving their signs with their college logos, chanting, signing, and dancing and officially marking the next and exciting new chapter of their lives."
Students used the hashtag #IGOTIN2019 to publicly commit to colleges.
"It makes me so proud to know that I had a hand in getting them to this important part of their lives," said ACCESS adviser Amy Hall. "Seeing them genuinely excited about furthering their education is so amazing."