Giving old clothes new life, FCCA Club starts new initiative
This junior scoured through the rack outside of room 113 because she was "lured in by the striped pants."
Surfrider Foundations and FCCA Club support a new recycling program. Instead of recycling trash, FCCA decided to reuse and re-purpose student clothing.
"Grab and Go [is made so that] students can grab the clothing items and go, without any questions asked," said independent living teacher, Karen Simmons.
For some students, acquiring school appropriate clothes can be difficult.
According to the program's guidelines, students can take any items as long as they wear them.  The guidelines also ask that students share clothing when they can and leave the hangers. 
"It shows school spirit, and it makes more and more people want to participate in the extracurricular activities we have at Ocean Lakes," said senior Hector Otero. Otero is a student in one of the independent living classes, which is when and where the program is managed. 
Simmons and science teacher Brian Alexander came up with the idea. Alexander's wife runs a similar project at First Colonial, so he thought Ocean Lakes could benefit from the program as well.
"[I] integrate this project with my classes, which is independent living, where I prepare my students for the real world. They inspect, examine, and re-purpose the clothing items," said Simmons. "We are putting all clothing items up here because we have students that may not have some of the clothing items needed to come to school, and feel proud of themselves, so they can think straight and be successful as a student."
About the Writer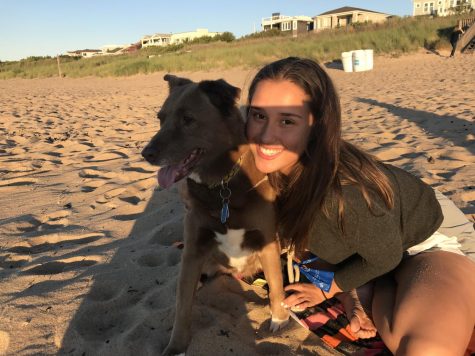 Desiray Martinez, Staff Writer
Desiray Martinez is a second-year writer for The Current.  She has a huge passion for the environment, animals, music, and loves Jesus.