Pole vaulter leaps to succeed and coach others
Hang on for a minute...we're trying to find some more stories you might like.
Standing out during practice, senior Lucas Alexander guides teammates through press-ups and drills.
"Lucas is like a second coach to us and helps us a lot. He is always there for us and gives us great advice," said teammate Reilly LaRoche. "He is very skilled at pole vaulting and wants us to all get better."
Lucas, with a personal-record of 12' 6," started pole vaulting in the ninth grade after having wrestled in middle school.
"I ran cross country as a fall sport my freshman year as a way of just trying to meet people going to OL. Coach Liam Arocho, the head pole vault coach, and the assistant XC coach, was telling the new runners about it, and instantly, I was intrigued," said Lucas. "The sport seemed so different, and I knew long distance was not gonna be the sport for me. So I decided to give it a try to see what happened."
When he was a junior, Lucas went to states and slowly became a more significant member of the team, acting as coach whenever Arocho was not around.
"Coach Arocho has to deal with all the jumping events, throwing events, and does a lot with the sprinters too, so whenever he can't be just with the vaulters, I'm normally just stepping in his place," said Lucas. "We have had a lot of new vaulters over the years just trying the sport, and I had to learn myself obviously, so overtime, I just got better at explaining the basics and showing people what they need to be doing after they jump."
About the Writer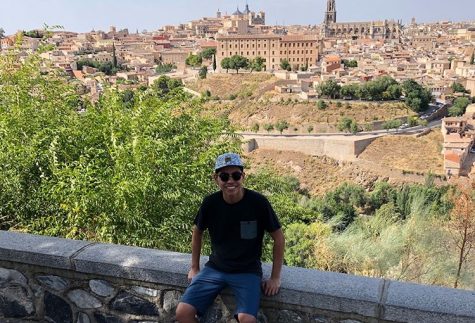 Alan Ledezma, Staff Writer
Alan Ledezma is a first year staff writer for The Current. As a sophomore who enjoys many subjects, Alan enjoys fishing, reading, and running track....