Humans of OL: Pierce Corson
Hang on for a minute...we're trying to find some more stories you might like.
"The Journal of Emerging Investigators is a Harvard-sponsored research journal that publishes research papers from 'emerging investigators' in their fields. My project was under the category of Health/Behavioral Science and dealt with teen stress. To put it simply, through volunteering with the National Alliance on Mental Illness, I knew that mandated the Standards of Learning for Health and P.E. curriculum be updated to include information about mental health and wellness. I had seen a lot of stress in both myself and my peers, and, wanting those affected most to have a voice in these changes, I surveyed hundreds of high school students around the state, running statistics on their replies. I ultimately took this information and worked with the Virginia Department of Education to get this information into the updated Standards of Learning. A summary of my work was presented to the Virginia General Assembly, and my paper was distributed to the council that mandated the updates. I'm now organizing an event at our school about mental wellness and stress management in January, where mental health professionals from around the state are invited to speak to our students, teachers, and parents. It really meant a lot that the G.A. was interested in my work. Overall, the whole process was incredibly humbling. I felt very lucky that the research, 'giving teens a voice,' even if indirectly, is something that affects their lives. My biggest takeaway is probably that anyone with a dedicated interest can make an impact for the greater good," says senior Pierce Corson. "Your age doesn't matter, and your initial level of knowledge doesn't matter; if you're passionate about making a change, you can."
About the Contributors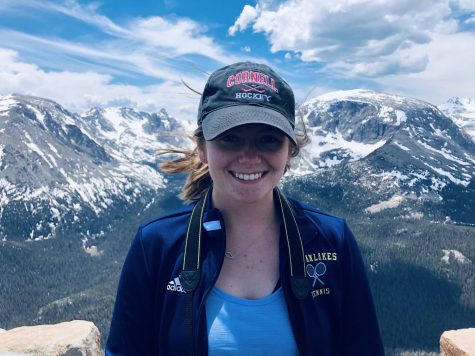 Abigail Hicks, News Editor, Photographer
Abigail Hicks serves as news editor for The Current. Inside of school, apart from journalism, Abigail is a member of Team American Rocketry Challenge,...