MSA seniors present projects online
Four years of demanding math and science academy classes, rigorous research, and a 70-hour mandatory summer mentor-ship all came down to a mere 10-minute video aired virtually due to COVID-19, a virus that cancelled school just when presentations began.
Some academy seniors welcomed the adjustment.
"It was really convenient doing it on my computer, and it made me less nervous," said Ally Grabarczyk, a senior academy student completing her project on the importance of nursing.
Without a live audience, some students felt more comfortable.
"The online way was stress-free knowing I could retake the video at any time," said Jared Chung, academy senior completing his project on "The Universe Between Our Ears."
Others found the freedom to re-record a hassle. 
"I'd keep redoing the presentation anytime I made a mistake, I probably recited my presentation six times before getting a take that I liked," said Batool Ayaz. 
Academy students used personal laptops to film and submit their presentations.
"The platform we recorded it on was pretty straightforward, and Ms. Graves gave easy to follow instructions," said Brenna Litton, MSA senior. 
There were, however, a few glitches. Software used for the presentations did not work on Chromebooks.
"I had trouble getting the apps set up on my computer," said Ally. 
According to Allison Graves, the academy's project adviser, they were thankful for the technology that gave seniors an opportunity to still present– with a target audience.  Academy sophomores and juniors were encouraged to watch the videos.
"What they don't get from the virtual presentations, and the reason that I hope we won't have to do this format in the future, is the experience of delivering a professional presentation to a large group and then answering questions following," said Graves.
While seniors did not get the same satisfaction of presenting in person, most enjoyed the online layout.
Although Jared wanted to have a moment of realization like, "this is it," and yes, "I completed the academy," for a presentation well done, he admitted that "the relaxed environment was nice, and it's cool to know that now these videos we made can be used as examples for future senior projects." 
About the Writer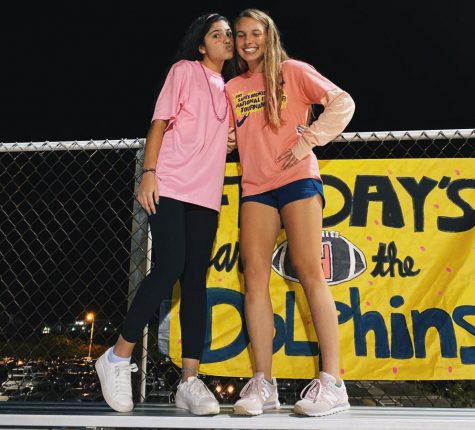 Kaitlyn McMahon, Social Media Editor
Kaitlyn, a senior, serves as both the social media editor and second-year staff writer for the school newspaper. She also participates in varsity field...