Boys lacrosse starts season with a scrimmage win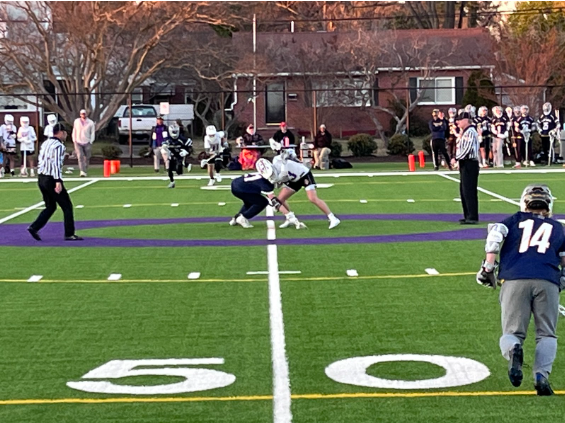 Boys varsity lacrosse fought hard during their first scrimmage of the season for a win 15-1 against Norfolk Christian. After 37 years of effort in Hampton Roads, lacrosse finally turned into a varsity sport.
"We got a bunch of new players on the field last night, and I was really happy with how they played," said boys lacrosse Coach Mark Keller. "Add them to the core seasoned players, and I think we will do very well this season."
During the first three quarters of the game, Norfolk Christian could not score a goal against junior goalie Teagen Alexander, and eventually they scored once during the fourth quarter. Fifteen goals were scored by players Aiden Duprey, Ethan Locke, Kelly Williams, Aidan Grundy, Nate Bushy and Brennan Burton.
"We played pretty well as a team, but we could have definitely done better. As the season grows, I believe we can definitely develop into a better team," said senior Ryan Devlin.
The team's goal is to finish 8-2 or better in the region to make the regional championship game. 
"For our first game, we were able to identify many weak points and areas that we need to work on. We are doing well and only getting better with each practice," said senior Andrew Luksik.
Boys varsity lacrosse team has a long season to go with their next game March 21, 2023, against Norfolk Collegiate.