Dolphins earn revenge against Oscar Smith, crowned class 6 region A champs

After losing to the Tigers in 2015, missing the playoffs in 2016, and losing to them again in 2017, the Dolphins settled the score by beating the Tigers 21-7 Friday night at the Sportsplex.
The Dolphin's defense allowed seven points led by Jacari Holloway's three picks against Auburn commit Cam'Ron Kelly. The d-line, led by senior Jordan Green, junior Treshon Griffith, junior Josh Drake, and sophomore Naquan Brown, applied constant pressure on the quarterback, forcing five turnovers and seven sacks.
Touchdowns were scored by senior Tayvion Land (receiving), senior Shawn Hamilton (receiving), and senior Xander Jedlick (rushing).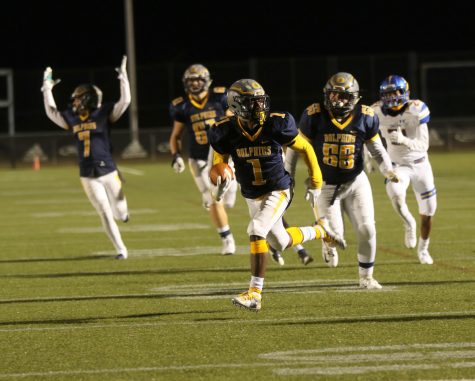 Aside from the team win and regional championship, the Dolphin's sent six players to first-team All-District: Xander Jedlick (QB), Shawn Hamilton (UT(defense), K, WR), Tayvion Land (DB, WR), Cameron Williams (LB), Jordan Green (DT), and Tyler Stephens (OL). Coach Joe Jones was also awarded Class 6 Coach of the Year.
The Dolphins take on the Manchester Lancers for the state semi-final at the Sportsplex at 1:00 p.m. this Saturday.
"The defense really played lights out last game.  The coaches had a great game plan coming into the game and all we had to do was execute, which we did fairly well.  Now we move our focus to Manchester this Saturday," said Jedlick.